DIY MEMORY WALK & JOG, ORANGE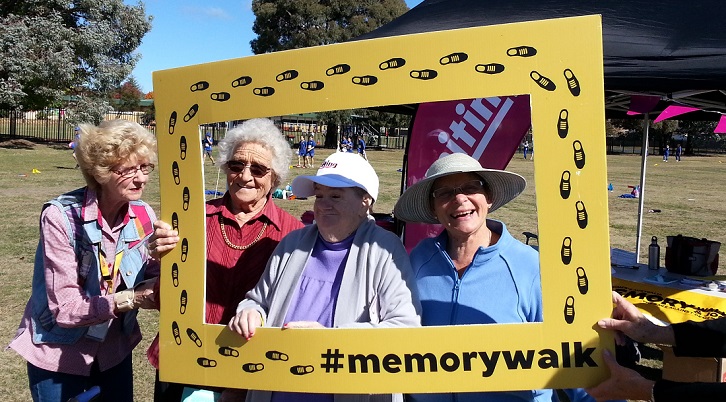 Organised by representatives from Uniting Community Care, Opal Aged Care, Care West, Orange City Council, Mental Health Promotion, FACS and TAFE Western, this brilliant DIY Memory Walk was held at Cutcliffe Park in Orange.
Over 100 people attended the event, and raised over $1,000! The Walk was generously supported by Scott Munro Butchery, Kennards Hire, Orange ExServices Club, Opal Aged Care, Calare Public School and The Cudal/Cargo Lions Club.
"There were information stalls, music, a sausage sizzle and a special appearance from Memory Walk & Jog mascot Al the Elephant" says Lauren. "The Alzheimer's Australia NSW Memory Van was also there to provide free information and advice".
WELL DONE, ORANGE COMMUNITY!
---
PAM JOSUE & FRIENDS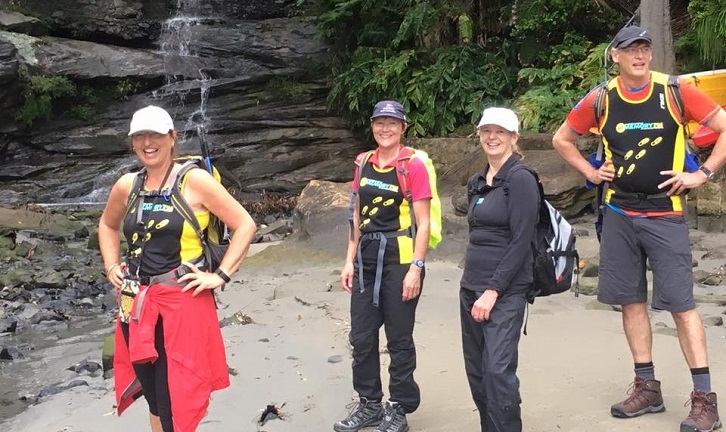 On 22nd October, Pam Josue and her friends and family raised an unbelievable $20,000.00 for Alzheimer's Australia NSW by organising their own DIY Memory Walk & Jog. They didn't hold back, in spite of the weather forecast, and walked 30km starting and finishing at Manly Wharf.
Pam says: "I am so thrilled with the success of our event. I'm really overwhelmed with the response of those who have donated as raising over $20k is so much than we had hoped for!"
Pam's inspiration to organise the fundraiser, came from her much loved husband, Paul (aka Freebie) who, about 7 years ago, aged just 60 years old, was diagnosed with Younger Onset Dementia. Pam continues to care for Paul but wanted to make an even bigger impact by raising funds and awareness for others in similar situations. Pam certainly did succeed in doing this, sharing her story with all her supporters and raising a huge amount of money for a cause so close to her heart.
We thank Pam and all those who took part and donated as we simply couldn't have the impact we do without our supporters.
PAM & FRIENDS, YOU'RE AMAZING!
---
THE WHIDDON GROUP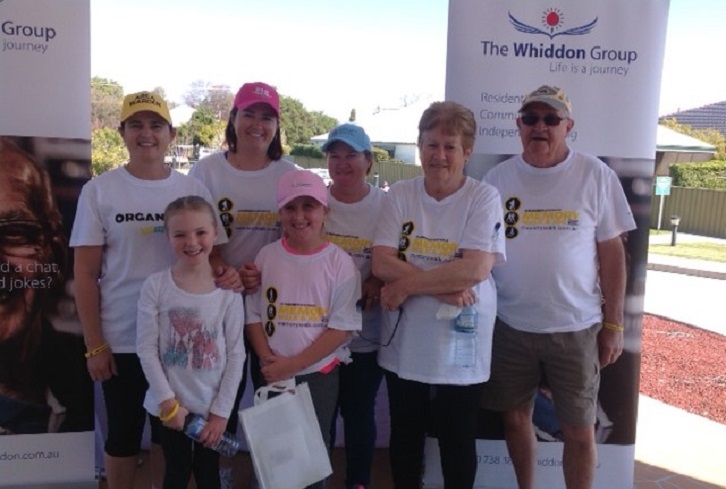 The Whiddon Group, Narrabri – aged care service provider - raised an awesome $3553!
Kylie says "We had a lovely sunny day and everyone looked fabulous in their Memory Walk shirts. It was a very casual walk, with lots of families of our residents, and children. We had 114 people either register before or on the day, and about 50 people did the walk.
We had a lovely BBQ lunch after, drew the raffle and hundred club then the Lucky entry prizes.
It was a great event and was enjoyed by all so we are considering running it again next year.
A highlight of the day was when the husband of one of our residents cut the yellow ribbon to commence the walk surrounded by his family!"
THANKS WHIDDON GROUP!